Special Education Degree Scholarship Winner: Summer Lengyel

Over the past 25 years, Knapp & Roberts law firm has aligned their name and provided contributions to organizations and causes that align with their values. By reading their Giving Back page, you will see a list of organizations that represent these values, ranging from those serving their local community, including St. Vincent de Paul and the Autism Society of Greater Phoenix, as well as charities that affect people across the U.S., including St. Jude Children's Research Hospital and the Special Olympics.
In an effort to build upon the causes nearest to their heart, Knapp & Roberts created the Knapp & Roberts Foundation, a 501(c)(3) dedicated to helping and enhancing the lives of those who need it most – both close to home and nation wide.
Although Knapp & Roberts Law Firm supports a wide range of causes, there is one that remains very important to founders Craig Knapp and Dana Roberts – and that's their commitment to helping those with special needs and their families. As a result, Knapp & Roberts Foundation created two scholarships awarding students who share their passion and saw the importance of serving the special needs community.
One scholarship seeks a student who is pursuing a degree in special education and Knapp & Roberts is excited to introduce the winner of that scholarship, Summer Lengyel. Congratulations, Summer!
Here is a short Q&A with Summer:
Please tell us about yourself.
I'm a junior at Montclair State University in New Jersey studying English and Teacher Education (with certifications in Special Education, K-12 English Education, and Elementary Education). I have three part-time jobs: I'm a substitute teacher, campus tour guide, and sales associate at a jewelry store. When I'm not studying or at work, I love to read, go to the gym, watch Netflix, and spend time with my friends and family.
What made you pursue a degree in special education?
Having a brother with autism has been my biggest motivation for pursuing special education. I've been able to admire the positive impact that teachers have made in my brother's life and would love to be able to do the same for students of my own. I've also worked at a summer day camp for children with special needs and enjoyed how challenging yet rewarding it is.
What do you plan to do with your special education degree?
I'm going to use my degree to become a teacher! I can't wait to have a classroom of my own and hope to make a difference in the lives of my future students.
Here's a photo of my brother, Tyler, and me at my senior prom.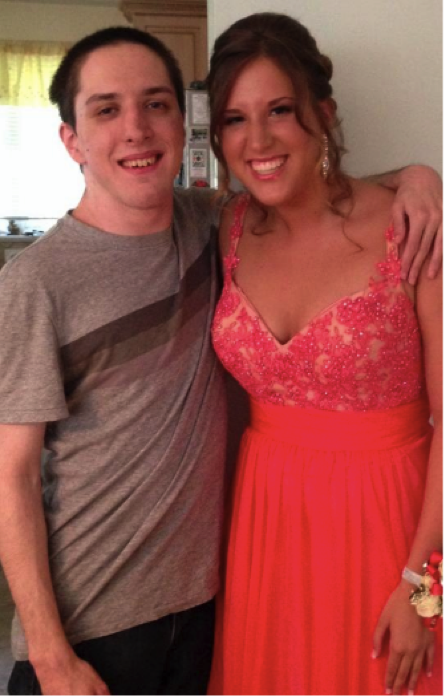 —
Thank you for sharing your story with us, Summer! We are so impressed by all that you've achieved and wish you the best of luck in your future endeavors!
Let us tell your story
we care, and we can help. Contact us 480-991-7677 or fill out the form below
The personal injury attorneys in Phoenix, Arizona at Knapp & Roberts have the compassion and trial lawyer skills to tell your story to a jury. We will get to know you and your family so that we can help the jury understand what has happened to you and your family and how it has changed your lives. Obtain the compensation necessary for the injuries and losses you have suffered.