The Phoenix product liability attorney at Knapp & Roberts has recovered millions on behalf of injury victims and surviving family members for the losses caused by a negligent company. From pharmaceutical companies to breast implant manufacturers, we have used our law firm's 20 years of experience and resources to hold even major corporations accountable under state laws. Our legal team will demand every dollar owed to you for medical bills, lost wages, pain and suffering for severe injuries, punitive damages for gross negligence, and other recoverable awards.
Knapp & Roberts has obtained compensation for hundreds of clients injured by defective products taken off the market due to safety concerns. Many times these products do not undergo proper testing before being placed on the market. Our firm holds manufacturers responsible when dangerous products are allowed to reach innocent consumers. If a defective product caused you or a loved one to be seriously injured, talk to a Phoenix injury attorney at the Knapp & Roberts in Arizona.
You trusted a company to meet safety standards, and they put your life in jeopardy. Bring back as much control to your side of the case as possible when trying to get the compensation you want and deserve. Call Knapp & Roberts at 480.991.7677 to schedule your Free Consultation.
No upfront attorneys' fees, discovery expenses, and litigation costs for our legal services. We do not get paid until our Phoenix product liability attorney wins your case.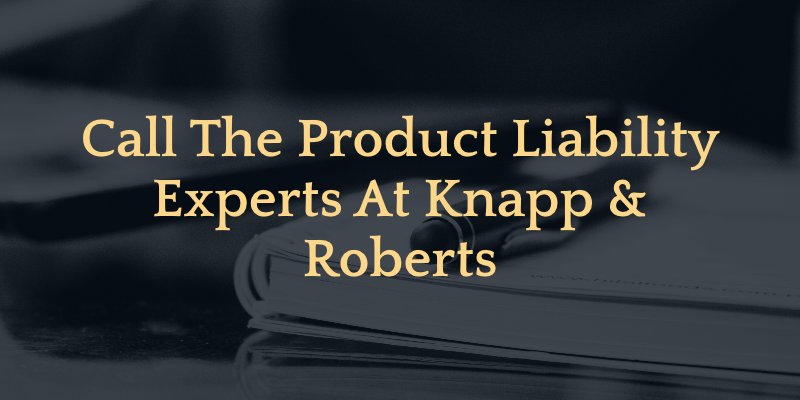 Knapp & Roberts Will Build the Right Legal Theory for Your Case
Arizona's negligence statutes address product liability actions under ARS § 12-2500. Generally, your claim must be based on one of three legal theories, including negligence, strict liability, and breach of warranty, for the law to treat it as a product liability case. Product liability verdicts are often much higher than general personal injury matters due to their more severe nature.
Your Phoenix product liability attorney at Knapp & Roberts will investigate the circumstances surrounding your injuries to build a legally sound case theory, including:
Option 1. Negligence: Negligence is when the manufacturer fails to meet its general duty of care by acting carelessly or recklessly, resulting in injuries and subsequent financial losses. This legal theory is utilized more commonly than others. Our firm will promptly inform you if we think this is the best strategy for your case.
Option 2. Strict Liability: While similar to a negligence claim, you do not need to identify individuals. Instead, you only need to prove that the product was unreasonably dangerous. As such, this option allows you to hold the entire supply chain accountable, including manufacturers, transportation companies, sellers, and distributors.
Option 3. Breach of Warranty: This option is used less often than other legal theories. It requires you to have a contract between you and the product seller. As such, you can only hold the seller, not the manufacturer, liable for your losses, which can reduce your legal options. We will only recommend this option if it makes legal sense for your case.
State-level product liability laws and the theory you apply to them will affect the outcome of your case and settlement, even if it never sees a day in the courtroom. Do not let the insurance company of a negligent product maker get away with offering you a lesser settlement than you deserve. Hire the Phoenix product liability attorney at Knapp & Roberts to get it right from the outset, so you have every fighting chance at a civil award.
Start Getting Answers with a Free Consultation
Our firm will take the time to understand your side of the story, explain how the law applies, and devise a case strategy that meets your objectives. Call Knapp & Roberts to get a Free Consultation at 480.991.7677. We can meet at your preferred location if you are too injured to travel to our office for an in-person meeting.
Product Liability Cases in Phoenix
In all cases, a Phoenix product liability attorney at our firm will use our extensive network of resources to assure your injury or your loved one's wrongful death is appropriately compensated. Below are examples of product liability cases.
Recalled Prescription Drugs When a doctor prescribes a drug, we expect that drug to help us, not harm us. As we have seen far too often, drugs that are meant to help can seriously harm patients. We have all heard of common prescription medications that have harmful side effects, like zofran; however, common prescription drugs can be extremely dangerous.
Defective Auto Parts In a car accident, we depend on seat belts and air bags to work as they are supposed to. When they do not, a passenger or driver can be thrown from the car or slammed into the dashboard. Defective tires or brakes can be the cause of a serious injury.
Defective Medical Devices We rely on the manufacturer to assure that medical devices work properly. When they do not, the result can be serious injury or wrongful death.
Arizona's Civil Laws Offer Product Liability Compensation Rights
The term damages refers to the financial losses claimed by injury and wrongful death victims. Under Arizona's negligence laws, you can recover economic, non-economic, punitive, and wrongful death damages as applicable to your case. The Phoenix product liability attorney on our legal team has decades of experience recovering millions in a single verdict.
If you hire Knapp & Roberts to represent your case, our legal team will demand a fair settlement on your behalf for the following:
Current and future medical bills
Lost work wages and benefits (for time missed)
Future lost earning capacity (if you cannot return)
Physical pain and suffering (for severe injuries)
Wrongful death awards (for heirs of the estate)
Punitive damages (to punish grossly negligent defendants)
All other recoverable awards under law
The insurance company may refuse to pay you what your case is legally worth. However, their actions could end up costing them more money than settling if your case enters into litigation. Knapp & Roberts will prepare your case as if we are heading to trial from day one and will never shy away from litigation if you decide that is the best option for your situation. Our firm will put the full weight of our resources behind your matter while staying vigilant from a cost-benefit standpoint.
Arizona Statutes Add Civil Deadlines to Your Case
You have up to two years from the date of your injury to file a product liability claim in Arizona. This deadline is known as the statute of limitations. Missing this deadline will negatively affect your case by causing a denial of your insurance claim or civil court petition dismissal since opposing parties are no longer liable.
Our legal team will observe this and all other deadlines that apply to your situation. You will have the chance to focus on your health and well-being instead of watching deadlines that your Phoenix product liability lawyer can handle.
Worried You Missed the Statute of Limitations?
Some situations make it impossible to file a claim before the two-year deadline. As such, AZ statutes allow for additional time under a provision known as tolling the statute of limitations. Rather than forfeit your right to compensation, play it safe by speaking with our office to confirm or deny your legal rights.

How Our Phoenix Product Liability Attorney Helps
If a defective product caused you harm, you might be eligible for compensation. Manufacturers and distributors must ensure that their products are safe and will not cause injuries when utilized properly. Otherwise, they could be on the receiving end of an insurance claim or civil court lawsuit filed by our legal team.
If you hire the Phoenix product liability attorney at Knapp & Roberts to represent your case, count on us to offer legal help throughout the time we work together, including:
Strong Negotiation Skills
Never accept a settlement offer without reviewing it first. If you accept their offer, you cannot demand additional compensation should a doctor find that your injuries are much worse than previously thought in the future. It is crucial that you have a competent negotiator during the settlement process so that you do not accept too low of a settlement offer.
Contingency Fees
At Knapp & Roberts, we believe that everyone, regardless of their financial circumstances, should have access to our legal services. Injuries caused by unsafe and defective products may also result in ongoing, astronomical medical expenses. As such, our legal team will agree to represent your case at no upfront cost if you select our firm, and we only get paid after securing a favorable verdict for you.
Extensive Legal Knowledge
A thorough and nuanced understanding of Arizona product liability law is essential to an effective claim. Knapp & Roberts carries a strong reputation for legal knowledge and experience, including over two decades of trial experience that carries a track record of success. You will always have the information you need to make decisions in your best interests.
At Home in Courtroom
Most product liability lawsuits settle before going to trial. However, there are several disputes that may prompt you to file a civil court petition for unpaid damages. When this situation arises, you must demonstrate that you were injured by a product with evidence and effective arguments while following civil court procedure. Our legal team is ready to fight your case at trial and stand by your side throughout the process.
Free Consultations
Product liability matters are personal, and evaluating the best match for your case can be challenging. That is why the Phoenix product liability attorney at Knapp & Roberts offers clients Free Consultations before they agree to hire us. In a one-on-one setting, you will discover what our legal team thinks of your case and what you could do to achieve a better outcome than your current situation. If you are ready to get no-cost, no-obligation legal advice, get in touch with our legal team at 480.991.7677 or by messaging online.