When you are facing a real-life tragedy in Arizona — a disabling injury or the sudden loss of a loved one — your insurance company is supposed to come through and provide the necessary relief that was promised under your plan coverage. When you are coping with a serious injury or wrongful death of a loved one, you shouldn't be forced to argue with the insurance company. A Phoenix insurance claims lawyer at the Knapp & Roberts law firm is dedicated to helping people just like you. Our attorneys are dedicated to obtaining the compensation necessary for the loss you have suffered.
Insurance Claims Processes in Arizona
The insurance company views each claim as just that — a claim or a number. It is the job of the insurance adjuster who reviews your claim to protect the interests of the insurance company and settle claims for as little as possible. However, at Knapp & Roberts, clients in Phoenix and throughout Arizona know that they will receive personal attention and dedicated representation. Our clients are much more than a number or a case. We take the time to get to know our clients and their specific needs. We listen to their concerns and work diligently to ensure their story is conveyed.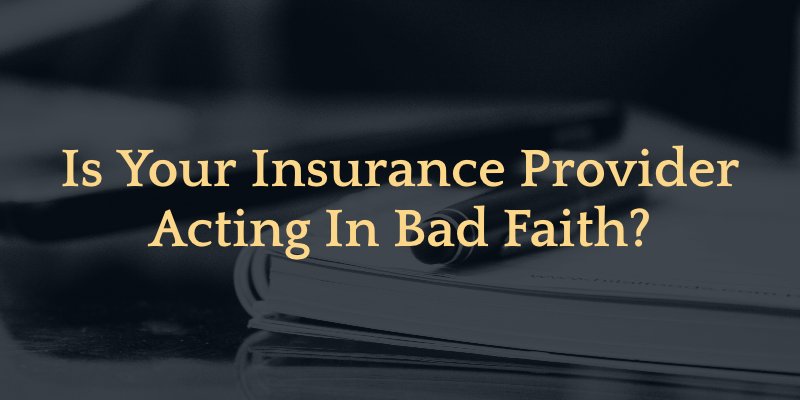 Insurance Companies Must Pay Settlements Fairly
Arizona law states that the insurer acts unfairly if it denies an injury claim without cause. It cannot pass off financial responsibility by delegating liability to an insurance adjuster or agent. Essentially, the insurance company takes full responsibility for the receipt, investigation, processing, and payment of your injury settlement. Otherwise, you have the right to take them to court for their actions.
To act in "good faith," an insurer must:
Insurers should never jeopardize your policy security. It should not force you to endure unnecessary administrative hoops to achieve its goals. Instead, they must take an equalized approach when evaluating and considering your claim.
When an insurance company acts in bad faith, we use our experience and resources to hold the insurance company responsible for their actions. We handle insurance bad faith claims involving all types of bad faith practices, such as:
Denying coverage without fully reviewing the claim
Denying coverage without reason
Unnecessarily delaying payment of the claim
Proposing settlement offers much less than the claim is worth
Other unfair insurance claim practices
If you think your insurance company is not acting in good faith when processing your settlement and it has caused significant financial and emotional stress, get legal help from the Phoenix insurance claims lawyer at Knapp & Roberts. We will look into the circumstances of your situation while holding liable parties accountable to the fullest extent of the law.
Arizona Awards for Bad Faith Insurance Claims 
Since each case is unique, no standard amount of damages awarded by jurors in a bad faith insurance claim. Despite their apparent similarities, one case's facts and outcomes may differ vastly from another. Compensation provides the same level of financial protection as an approved claim and prompt payment.
The Phoenix insurance claims lawyer at Knapp & Roberts will generally demand the following damages:
Injuries from unpaid claims

Attorneys' fees

Court cost reimbursement

Initial policy losses

Emotional distress

Punitive damages

Other recoverable damages under law
Determining the value of your specific situation is challenging without legal advice and counsel. No one can replace the years of practical knowledge and earned expertise of a Phoenix insurance claims lawyer. Speak with Knapp & Roberts to find out what our experienced and award-winning team thinks about your case at no cost or obligation by scheduling a Free Consultation.
How to Fight Back Against Unfair Claim Settlement Practices
When insurance companies unfairly settle claims, they can be held accountable for their actions. You might have the right to initiate a lawsuit against them if they promptly prevented the payout of your covered losses. 
Here are the steps to take in general if you think you have a claim against an insurance company for its practices:
Step 1

. Preserve all documentation and communications

Step 2

. Get a Free Consultation with a Phoenix insurance claims lawyer

Step 3

. File an Unfair Claim Settlement Practice case under

ARS Section 20-461

Step 4

. Work with your lawyer to protect and negotiate a settlement

Step 5

. Take your case to a civil trial (if necessary)
Under this process, Knapp & Roberts will assist you in recovering punitive damages, emotional suffering, consequential damages, and legal fees. Typically, punitive damages are provided in the rarest of circumstances. However, if we believe that your case is deserving of punitive damages, you can count on us to demand every cent that the insurance company owes you.
Get Protected from Phoenix Insurance Companies
Our personal injury lawyers in Phoenix is focused on making a difference and protecting our clients. Whether you were injured in a car accident or a loved one died in a truck accident in Phoenix, our law firm is here to ensure you get the full compensation you need and are entitled under the insurance policy and other potential claims.
To discuss an insurance bad faith claim with an experienced trial attorney at our firm, contact us today. We represent clients from the Scottsdale and Phoenix areas in Arizona.
Free initial consultation. If you have a legal matter you wish to discuss with one of our attorneys at no charge, please contact us by telephone or e-mail, or complete the Do I Have a Case form and one of our attorneys will contact you.