How Can I Hire an Accident Lawyer in Phoenix, AZ?
How do you know the attorney you choose is the best for car accident claims? First, look at the practice areas and case result history of the attorney. You will need a Phoenix car accident lawyer who specializes in accident and injury law, as well as one who has experience securing verdicts and accident settlements for clients. Caseload and response time are also important considerations since you'll want a lawyer who can dedicate ample attention to your case. Look for a Phoenix accident attorney who has the time to speak with you about your crash, in person or over the phone.
When discussing your case with your accident attorney in Phoenix, ask questions such as: "Who could be liable for my damages?", "How much is my case worth?" and "Should I settle with the insurance company?" You have two years from the date of your accident to file an auto accident claim against the other driver and/or other parties. Don't wait – Speak to an experienced attorney today if you need advice about your claim or injury related laws
The more you know about accident laws and your rights as an injured person in Arizona, the better you can protect your future after a car crash. When in doubt, contact a Phoenix injury attorney at Knapp & Roberts for assistance. We work on a contingency fee basis, meaning you don't pay for anything unless we win. Our track record and reputation for winning speaks for itself.
Ask a Phoenix Car Accident Attorney
What Compensation Is Available for an Auto Accident in Phoenix?
Motor vehicle collisions often have lifelong impacts on car accident victims and can lead to thousands of dollars in medical bills, costly auto repairs and lost wages from missed time at work. An experienced Phoenix car accident attorney can help fight for compensation for these loses and help you and your family recover from the accident.
This includes:
Medical expenses – Past, current or future expenses stemming from the vehicle collision
Loss of income – Lost current or future income, as well as loss of earning ability
Pain and suffering – Mental, physical and emotional suffering or anguish
Wrongful Death– Loved ones of victims of fatal collisions can get compensation for their deceased loved one. If you have lost a family member in a car accident, get help from our Phoenix wrongful death lawyers.
Our law group's goal is to secure necessary compensation for our clients who have been injured in motor vehicle accidents throughout Maricopa County.
How Can I Prove Fault in a Collision?
Proving fault is the the most important fact in a Phoenix car accident lawsuit. Arizona is a fault insurance state, meaning injured parties can seek recovery through the at-fault driver's insurance company. Injured people can also pursue compensation through a civil personal injury lawsuit. In both types of cases, the injured party will have to prove that the other driver was at fault to receive compensation for medical treatments, property damages, and more.
Proving fault can be difficult depending on the circumstances of the accident. It requires reviewing all the facts and evidence of the crash to assign fault to one or more parties for causing the event. Evidence can include photographs of the scene, eyewitness statements, expert testimony, police reports, and medical records. An injured party will need to prove that the other driver owed a duty of care, breached this duty, and thereby caused the accident.
What is Comparative Fault for a Car Crash?
Arizona is a comparative negligence state. This means that the courts might assign fault for a single car accident among more than one party. Even a plaintiff partially at fault for a crash could still receive partial compensation. If you were seriously injured in a motor vehicle accident, it is recommended that you speak with an attorney, no matter what the circumstances of the crash were. A Phoenix car accident attorney can review your case, investigate the crash and identify any potentially at fault or liable party.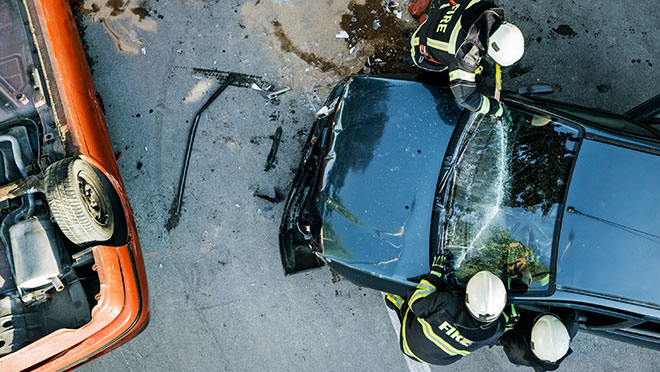 What Should I Do After a Car Accident in Phoenix, AZ?
As a car accident victim, it can be difficult to think further ahead than the next few minutes. You might be dealing with serious injuries and phone calls from insurance companies. The last thing on your mind might be collecting evidence and taking on a legal case. Yet the actions you take in the hours and days after a collision can make a significant impact on the future of your car accident claim. Take these five main steps after a crash for your best chance at recovering monetary compensation:
Take pictures. Use your phone or camera to take photos of the accident directly after it happens. Take pictures of all vehicles involved, injuries, and of the roadway itself. Photographs can serve as strong evidence in a Phoenix car accident case. Snapping a photo of fast food bags in the other driver's car, for example, could help you prove driver distraction.
Exchange insurance information. Stay on the scene and get the other driver's information. Write down the driver's full name, address, phone number, license plate, and insurance company. Give the driver your information as well. You don't have to report your accident as a private citizen in Arizona, but police must report the crash if it caused injuries or death
Contact an insurance company. Next, call the at-fault driver's insurance company to report the crash. Don't admit fault for the accident. Instead, wait for police or an insurance company investigation to assign fault. The at-fault driver's insurance company will cover damages according to the policyholder's coverage amounts. Call the number on the insurance card and follow the agent's directions for reporting the crash.
Don't sign anything. You might hear from an insurance claims adjuster after an accident. The adjuster will ask you questions about the collision and offer you a settlement. Do not agree to a settlement or sign anything until you've spoken to an attorney. The settlement offer could be much less than your case actually deserves. Signing something can make it difficult or impossible to argue for more money later.
Hire a car accident attorney. Before you go any further with the car accident claims process, call Knapp & Roberts for a free consultation. We can help you protect your rights and negotiate with insurance companies for a fair settlement. We might also recommend pursuing additional damages through a personal injury claim. A lawyer can protect your best interests during settlement negotiations and/or a lawsuit against an at-fault party. It's never too early to call an auto accident attorney.
Time matters when you are involved in an auto accident.
After a crash in Arizona, reach out to a Phoenix car accident lawyer from Knapp & Roberts as soon as you can for a case evaluation. Our skilled attorneys can walk you through the steps to take right from the beginning for your best odds of securing compensation. Always seek medical attention for auto accident injuries and give us a call right from the hospital room if you want prompt legal assistance. The number for a free case review is (480) 991-7677.
Common Causes of Arizona Car Accidents
Motor vehicle accidents are a major cause of death and injury in the United States.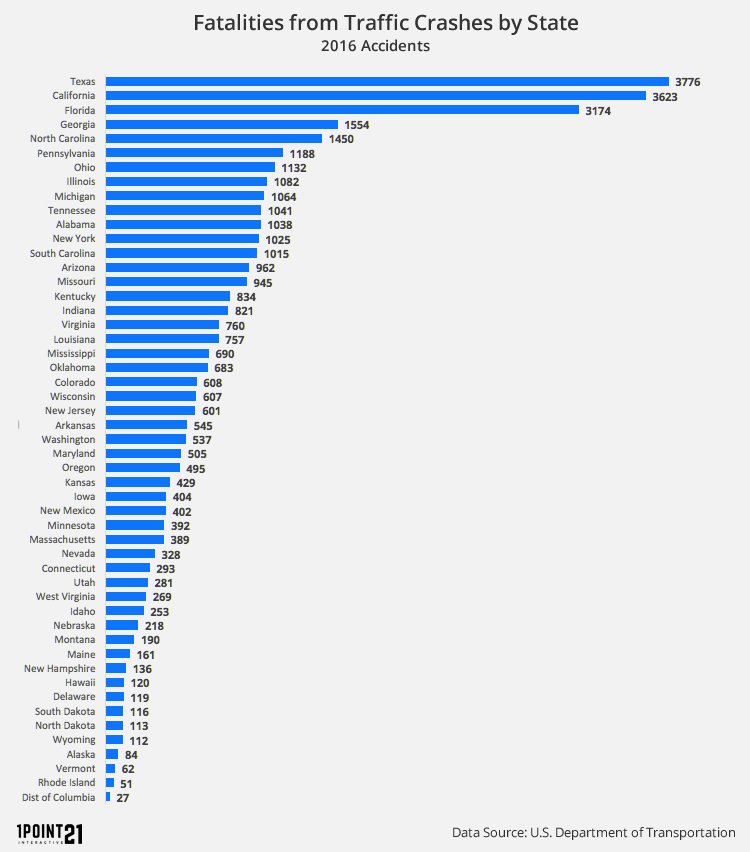 Car accidents, fatal or not, are a major problem in Arizona and throughout the country.
Types of Accidents in Phoenix, AZ
In many cases, vehicle crashes can deliver a lot of information about how and why the crash occurred. In a head-on collision, for example, likely causes could be one driver swerving into oncoming traffic or driving the wrong way. Understanding the common types of car accidents and why they happen could help you assign fault for your recent crash. Some of the accident types our Phoenix auto accident lawyers see most often at Knapp & Roberts include:
Rear-end collision. This type of accident occurs when one vehicle collides with the vehicle in front of it. Rear-end collisions are most common when a driver is distracted or speeding. Failing to stop in time to avoid colliding with a stopped or slowed vehicle almost always results in the liability of the driver in the rear vehicle.
A sideswipe accident happens when two vehicles come in contact with one another while driving next to each other in the same direction. Merging into a lane without checking for other vehicles is a common cause of a sideswipe. Overcorrecting and swerving into another lane can also cause a sideswipe.
Multi-car collision. A multi-car collision, or vehicle pileup, describes an accident that affects several vehicle vehicles. When one car strikes another, it can cause a chain reaction – particularly of rear-end collisions. If one driver is to blame for the multi-car collision, he or she will have to pay for all other drivers' damages.
Single-vehicle accidents. Every year, thousands of single-vehicle collisions occur in Arizona. Single-vehicle accidents can be the fault of the driver (e.g., a drowsy driver crashing into a ditch), but they might also be the fault of a third party, such as the manufacturer of defective brakes or the entity in charge of roadway maintenance.
Regardless of the type of accident, it's important to contact a Phoenix car accident attorney after a collision that causes serious car accident injuries. A crash can change your life. You could be eligible for significant compensation after an accident depending on who or what caused the collision.
Contact Our Phoenix Car Accident Lawyers
At Knapp & Roberts, our personal injury lawyers focus their efforts and resources on helping injured people and the families who have been seriously injured or killed in auto accidents. The Knapp & Roberts legal team has been fighting to protect the rights of car accident injury victims since 1991. With more Southwest SuperLawyers and published Phoenix car accident attorneys than most other Arizona law firms, Knapp & Roberts is qualified to handle even the most complex car accident cases and potential personal injury claims.
Knapp & Roberts offers a free case evaluation. If you have a legal matter you wish to discuss with a Phoenix car accident attorney at no charge, please contact us by telephone or e-mail, or complete the "Do I Have a Case" form and one of our Phoenix trial attorneys will contact you. Discuss taking legal action today: (480) 991-7677.