At the Knapp & Roberts personal injury law firm, our Phoenix accident lawyers focus their efforts and resources on helping injured people and the families who have been seriously injured or killed in motor vehicle collisions (MVCs).
Types of Car Accidents in Phoenix
Rear end crashes – Occur when the car following too close behind another car slams into the back of another car. These usually occur in congested traffic or when a driver is engaging in distracted driving.
Head-on collisions – These occur when two cars traveling opposite directions crash into each other. These are typically the most deadly types of car accidents and result in serious injuries.
Rollover accidents – Larger cars like SUVs are usually affected by rollover accidents. This is because they have more weight up top and are top heavy. This can also occur because of design flaw in the automobile – which is when you would need a product liability attorney to see if you have a case against the car manufacturer.
Hit & run accidents – These are usually the most frustrating type of crash because the perpetrator is nowhere to be found. Although the negligent driver might not be found, you can still hire a car accident lawyer to explore your options for compensation if you were injured.
Pedestrian collision – While these usually cause more injury to the pedestrian, it is not always the drivers fault. If the pedestrian failed to use a crosswalk or darted out into oncoming traffic, the driver may be eligible for compensation.
Arizona Car Crash Fatalities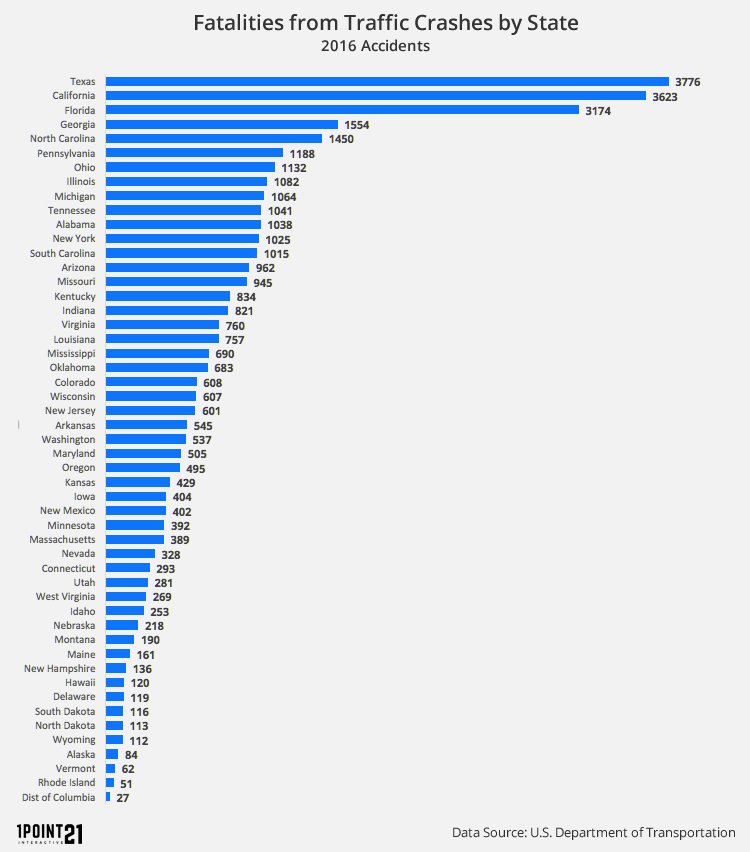 As evidenced in the graph above, Arizona is one of the deadlier states in the U.S. when it comes to car accident fatalities. According to the U.S. Department of Transportation, Arizona had 962 car accident deaths in 2016 – making it the 14th deadliest state in the country in terms of total fatalities.
Causes of Car Accidents in Arizona
While most think car accidents are a result of drunk driving in Arizona, there are many other types of accidents that pose a higher risk. Below is a breakdown, comparing the injuries and fatalities of various types of car accidents in 2013 from the Department of Transportation.
| | | |
| --- | --- | --- |
| Type of Accident | Injured | Killed |
| Alcohol Related Accidents | 3,480 | 262 |
| Speed Related Accidents | 19,015 | 226 |
| Urban Crashes | 40,843 | 443 |
| Rural Crashes | 9,441 | 401 |
| Drivers Under 24 Years | 7,718 | 92 |
What Type of Compensation Can Car Crash Victims Secure?
Our goal as Phoenix accident attorneys is secure necessary compensation for our clients who have been injured in car accidents throughout the state. Motor vehicle accidents often have lifelong impacts on the victims, and can lead to thousands in hospital and medical bills. Some types of compensation our car crash lawyers help secure include:
Medical expenses – Past, current or future expenses stemming from the vehicle collision
Loss of income – Lost current or future wage, as well as loss of earning ability
Pain and suffering – Mental, physical and emotional suffering or anguish
Wrongful death – Loved ones of victims of fatal car accidents can get compensation for their deceased loved one
Arizona's Road Infrastructure
Infrastructure may play another role in car accidents. Nationwide, Arizona had the 13th highest amount of traffic fatalities in 2008. In 2006, an average of 3 people died on Arizona roads every day, and in Phoenix alone, 540 pedestrians were injured and 51 killed.
A combination of less than ideal road conditions and design, traffic density, irresponsible driving and pedestrian habits resulted in 23,698 Arizona car accidents last year. While that number is the lowest it's been since 2000, Arizona still has significant room for improvement.
Roads and their conditions are variable. The best bet to ensure road safety is for drivers and pedestrians to know and follow the laws of the road, an option that is always in their control. When roads are noticeably damaged or the weather and time of day worsen driving conditions, more caution should be used than usual and in-car distractions reduced as much as possible.
Arizona government and organizations have taken notice of the road dangers and are working towards positive change. For example, the Governor's Traffic Safety Advisory Council supports the Arizona Strategic Highway Safety Plan. The project started in 2005 and aims to reduce the number of Arizona traffic fatalities. By the year 2012, the Arizona Strategic Highway Safety Plan saw a 12 percent drop from 2007.
Contacting a Phoenix Auto Accident Lawyer
Knapp & Roberts has been fighting to protect the rights of Phoenix personal injury victims like you since 1991. With more Southwest SuperLawyers and published personal injury lawyers than most other law firms in Phoenix or Arizona, Knapp & Roberts is qualified to handle even the most complex personal injury cases.
The car was totaled. You or your loved one suffered serious injuries. Lost wages are involved as well as extensive medical care and treatment. There are so many different accidents that require a skilled attorney. Here are some situations to consider:
If you have suffered a serious car crash injury such as a broken bone (especially when surgery is required), a spinal cord injury, or a traumatic brain injury, we can help.
If a loved one has died in a wrongful death in a serious automobile accident, a Phoenix injury attorney can help you with the insurance and legal matters.
A serious car accident often involves financial losses including lost income, extensive medical bills, and property losses. Our car accident personal injury lawyers can help you document your losses and tell the story of what you and your family have faced as a result of the accident.
A serious automobile accident often has extraordinary consequences. Talk to a Phoenix car accident attorney at the Knapp & Roberts law firm about what you need to do to recover for your damages. Knapp & Roberts also assists those who have suffered injuries in Phoenix motorcycle accidents as well as various truck accidents, so all of your needs can be met with this firm.
Free initial consultation. If you have a legal matter you wish to discuss with one of our Phoenix accident lawyers at no charge, please contact us by telephone or e-mail, or complete the "Do I Have a Case" form and one of our personal injury attorneys in Phoenix will contact you.