Children get hurt — it is part of being a child. However, sometimes, serious child injuries are caused by the negligence of others. When your child has suffered a serious injury on the playground at a Phoenix school, in the local swimming pool, or in a fitness club play area, you deserve to know what happened and if the accident could have been prevented. An experience Phoenix school accidents attorney can lay out all of these factors. At the Phoenix personal injury law firm of Knapp & Roberts, we have a history of helping our clients find answers about what happened, learning how the accident has affected their family, and preparing a case that demonstrates everything we have learned.
Knapp & Roberts Holds Schools Accountable for Negligent Acts
Parents expect their children's school to be a safe environment. Arizona state laws agree and allow you to recover compensation for their injuries if the school acted negligently. Our Phoenix school accidents attorney will investigate their accidents for signs of negligence while preserving evidence that holds them accountable.
Examples of negligence that may allow Knapp & Roberts to pursue a claim on your behalf include:
Slippery or damaged floors

Defective playground equipment 

Broken staircases and handrails

Floor trip hazards

Broken floors surfaces

Poor lighting

Negligent security

Poorly trained faculty and staff

Other forms of school accident negligence
When your child suffers broken bones or a compound fracture, a head injury, or other serious injury in a school accident or playground accident in the Scottsdale or Phoenix area, we work hard to find out what happened.  Below are some thing to consider when we take on a school accident case in Arizona:
Was your child's school drowning accident caused by the negligent supervision of staff or by the school district's inadequate swimming pool safety policies?
Were your child's playground injuries aggravated by the lack of appropriate landing material on the property (material that reduces the force of impact and ultimately the risk for serious injury when falling from playground equipment)?
Did your child suffer unnecessary school injuries because the physical education instructor failed to use proper mats or safety equipment?
Was your child's playground accident caused by defective equipment , improper installation, or playground design defects?
Evidence is essential to proving that the school caused your child's injuries. Take photographs of the hazardous area since the school could make repairs between now and when you negotiate a claim if reasonably possible. Even if you could not secure firsthand footage, count on Knapp & Roberts to launch a full investigation of the facts so that you understand what options are available to you and your child.
You Can Pursue All Liable Parties for Their Actions
Liable parties are legally obligated to pay damages if your child suffers from injuries at school due to negligence or abuse. The challenging and unfortunate part is that there may be numerous parties responsible. However, it is vital to understand that you have a legal right to investigate their actions further.
The Phoenix school accidents attorney at Knapp & Roberts will determine if you can pursue a compensation claim or lawsuit against:
The school

Administrators

Teachers

Coaches

Vendors and contractors

Other parents

Manufacturers

Other liable parties
Arizona law imposes a legal duty of care on school administrators and teachers to ensure students stay safe. This duty of care requires schools to take all reasonable precautions to protect them from injuries and death. If they fail in this capacity, you have the legal right to hold them accountable for compensation related to your child's injuries and other losses.
Multiple Deadlines Apply to Claims Against Schools
Under ARS Section 12-821, you generally have up to one year to pursue a claim against the school. This civil deadline is known as the statute of limitations and is much shorter than the general statute of limitations. Missing it will result in a denial of your claim or dismissal of your lawsuit.
However, other notification deadlines apply to claims against public schools and entities. Per ARS Section 12-821.01, you must file your claim within 180 days of the injury. Your claim should inform the school about what happened and why you allege liability against the school.
It should also cite the specific damages amount you are demanding they pay and supporting evidence and facts. The law also reiterates that any unclaimed file will be barred if it misses the 180-day deadline. Get legal help from the Phoenix school accidents attorney at Knapp & Roberts to ensure that you do not miss this deadline or others that could impact your claim.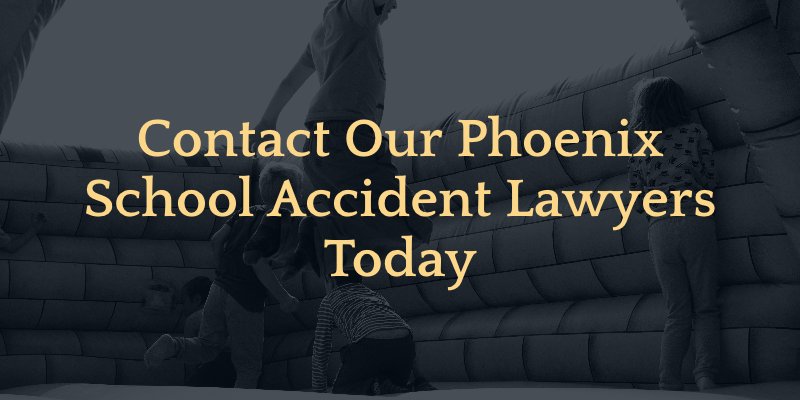 Contact Our Phoenix School Accident Attorneys Today
At Knapp & Roberts, we are committed to making a difference. When a Phoenix school accidents attorney from our law firm represents you in a school accident or playground accident case, he/she works tirelessly to investigate the accident and tell your story. If, while pursuing compensation on your behalf, we are capable of changing certain laws, policies, or procedures — so that others do not suffer the same injustice — we are that much more gratified.
Free initial consultation. If you have a legal matter you wish to discuss with one of our Phoenix accident lawyers at no charge, please contact us by telephone or e-mail, or complete the Do I Have a Case form and one of our attorneys will contact you.