Arizona's open highways and national park destinations encourage road trips of all kinds.While exploring Arizona by motorcycle can be exhilarating, it unfortunately comes with extra dangers and significant risk. Motorcyclist are extremely vulnerable to serious injuries as motorcycles lack many of the basic safety features of other vehicles; no airbags, no seat belts and the lack of a crumple zone. If you have been a victim of a motorcycle accident in the Phoenix area, recovering from your injuries can be a long and difficult process. When filing a claim, it's unwise to deal with insurance by yourself. A specialized Phoenix personal injury lawyer at Knapp & Roberts law firm has years of experience handling cases such as these, and will fight on your behalf for fair compensation.
Arizona Motorcycle Accident Statistics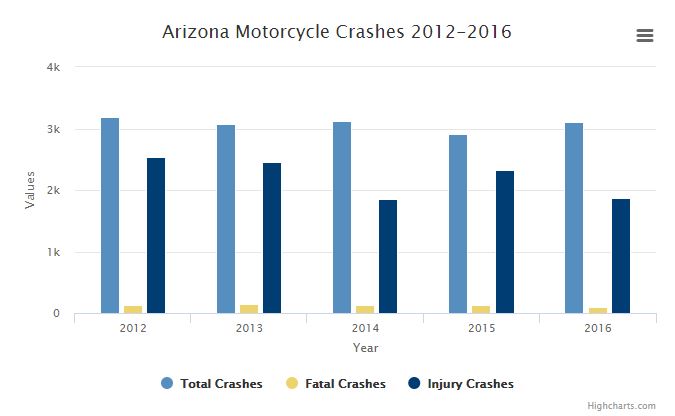 According to the most recent data, there are approximately 192,000 registered motorcycles in the state of Arizona. The neighboring state of California has nearly 800,000, so it is likely that a large volume of out of state motorcycle riders travel through the Grand Canyon State every year. There were 3,189 accidents involving a motorcycle in Arizona in 2014, fewer than two percent of all motor vehicle crashes in the state. However, the rate at which those accidents were injurious or fatal was exponentially greater compared to all other vehicles. The 127 motorcycle related fatalities accounted for nearly 30 percent of total motor vehicle fatalities  At the same time, nearly 80 percent of Arizona motorcycle accidents involved injuries (2,530); while fewer than 33 percent of passenger car crashes resulted in injuries.
Most Common Types of Motorcycle Accidents
Per vehicle mile traveled, motorcyclists are 27 times more likely to die and five times more likely to be injured in a crash than are passenger car occupants.  The danger is clear, but what type of collisions are motorcyclists most often involved in? Here are a few common motorcycle accidents: 
Head-on collisions

Vehicle left turn In front of motorcyclist

Sideswiped by vehicle making unsafe lane change

Lane splitting accidents

Collisions with fixed objects

Road hazards and slippery surfaces
Along with these collision types and scenarios, two factors are over represented in motorcycle accidents: Speeding and Alcohol use.  Whether on the part of the vehicle driver or the motorcyclist, a Phoenix motorcycle accident lawyer knows that avoiding the dangerous behaviors of using excessive speed and drinking and driving can make the roads safer for everyone.
Common Injuries in Motorcycle Accidents
The most common injuries sustained by motorcyclists are to their feet and legs, accounting for more than 30 percent of all non-fatal injuries.  Just behind, however, are injuries to the head and neck area – at 22 percent.  These injuries can include:
severe head and face trauma

soft tissue injuries

chest, back and shoulder injuries

Pelvic injuries
Arizona Motorcycle Helmet Law
If you are a motorcycle rider in Arizona who is over the age of 18, then you do not have to wear a helmet while riding. Proponents of this legislation deem it as freedom of choice, but the data spells out just how unsafe it is to be riding without a helmet.
Everyone knows how much more vulnerable you are on a motorcycle compared to a passenger vehicle; on two wheels, one pothole or improperly taken turn can spell disaster. The susceptibility to head injuries, especially when not wearing a helmet, is the most significant danger. Research shows that wearing a helmet is 37 percent effective for preventing fatal head injuries. In Arizona alone, the National Highway Traffic Safety Administration estimates the 38 fatalities were prevented by helmet use and another 32 could have prevented if 100 percent of the riders wore a helmet.
Get Help From Experienced Motorcycle Accident Lawyers
If you or a loved one has suffered a serious injury after a motorcycle accident, a qualified attorney on our team can help ease the burden during the recovery. If the crash was caused by another driver's negligence, you deserve justice and compensation. Don't go it alone, call the Phoenix motorcycle accident attorneys of Knapp & Roberts for a free consultation; our dedicated team will fight to make sure you are compensated fairly.